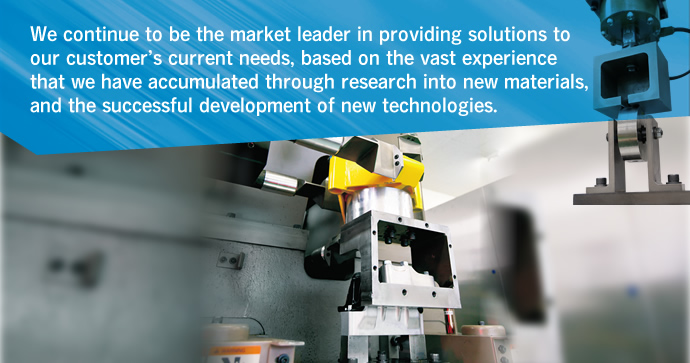 In a continually changing global market we are challenged to provide products that are: Technologically advanced, with the latest materials. Produced with an environmentally responsible mindset. Create value for our customer, employess, and community. Use the latest R&D and production methods. Continually focused on the future!
Research Department
Anti-Vibration Business Field

Anti-vibration technology that supresses the vibrations passed from the engine and road surface supports comfort within the automobile. In addition to developing the shapes, characteristics and functions of Vibration Control Parts, we are also involved in a wide range of innovative and practical research into such areas as hybrid isolators that utilize liquid and gas.

Hose Business Fields

Hoses are indispensable components for connecting suction, fuel and water pipes, and we develop materials that match up to each application. We not only supply rubber hoses, but also resin and other materials combined with, and joined to rubber. Through our research we are putting these materials to practical use.

New Business Fields

Based on our extensive automotive experience we are able to offer advanced technologies to industries outside our tradtional core. We offer solutions to, industrial, off-road, construction and many other evolving areas which require our expertise.
Features